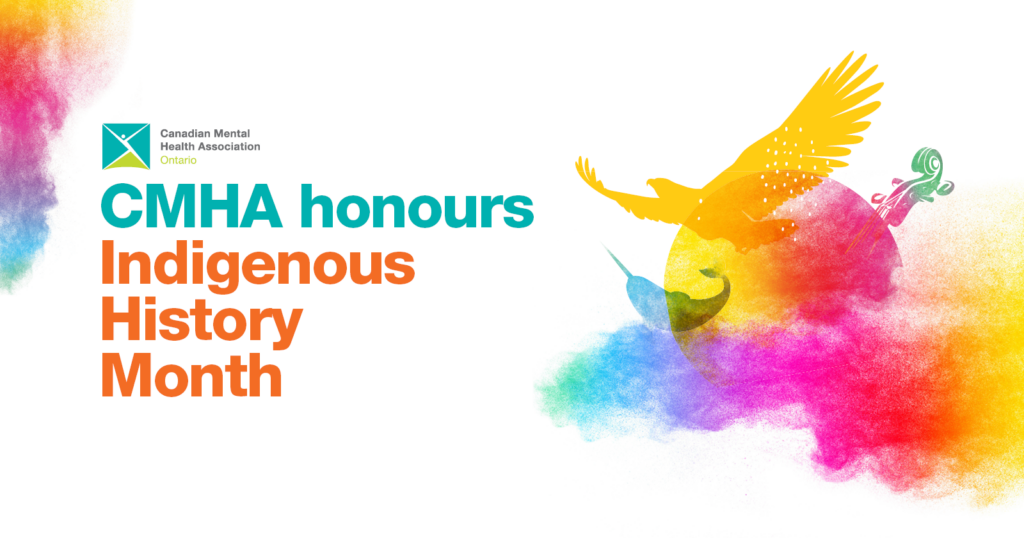 National Indigenous History Month 2023
Jun 1, 2023
Every June, CMHA acknowledges National Indigenous History Month and recognizes the rich history, heritage, resilience and diversity of First Nations, Inuit and Métis Peoples across Canada.
CMHA Waterloo Wellington is an Employer Partner with the Canadian Centre for Diversity and Inclusion (CCDI) which provides us with a number of resources that support us on our diversity and inclusion journey. 
CCDI shared a list of webinars, books, movies, tv shows, podcasts and Instagram accounts that share educational information and Indigenous representation in media. Here's a snapshot of some of the media – View the full list of CCDI media resources here.
At CMHA WW, we have developed a strong partnership with Crow Shield Lodge (CSL), and its founder and leader, Clarence Cachagee: Land-based Healing | Crow Shield Lodge | Cambridge. This partnership includes sharing our existing funding with CSL to enhance their programming, applying for new funding on behalf of CSL (we were successful in securing over $120,000 for CSL this year from Ontario Health West).
Given the compassion fatigue experienced by all of our staff as a consequence of the pandemic, Crow Shield Lodge offered to hold Healing Circles for our staff and leaders. These Circles were facilitated by Indigenous members of the Crow Shield Lodge team, who offered a space for staff to come together to share, learn and heal. Guided by the teachings of the seven Grandfathers (Humility, Bravery, Honesty, Wisdom, Truth, Respect and Love), the Circles focused on the cumulative impact of a very stressful and exhausting few years.