CMHA WW strives at all times to provide services in a way that respects the dignity and independence of persons with disabilities.
CMHA WW will make every reasonable effort to:
Provide services in a way that respects the dignity and independence of people with disabilities.
Give people with disabilities the same opportunity to access services and allow them to benefit from the same services in the same place and in a similar way as other persons supported unless an alternate measure is necessary to enable the person access to services.
Communicate in a manner that takes into account the person's disability, e.g. Use of an interpreter, sign language, communication board, information in a written format, etc.
Click here to view our Accessibility Policy.
CMHA WW is committed to identifying, preventing and removing barriers that may impede the ability of a person with a disability from accessing services, and to comply fully with the Ontario Regulation 429/07 of the Accessibility for Ontarians with Disabilities Act, 2005 (AODA).
Click here to view our accessibility plan that outlines the steps we are taking to meet those requirements and to improve opportunities for people with disabilities.
Feedback Process
Comments regarding how well accessible service expectations are being met by the services of CMHA WW are welcome and appreciated.
Feedback regarding the way that services are provided to people with disabilities can be made in the manner deemed most convenient:
If a response is requested, such responses will be provided within 5 business days.
eSSENTIAL Accessibility
Many individuals have trouble typing, moving a mouse or reading a web page. They can't access a website without assistive technology.
Our CMHA WW website is accessible to individuals with physical disabilities using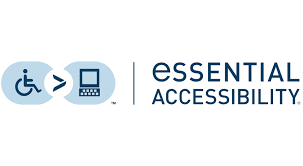 Organizations display this icon to certify that their site features a web-based assistive technology application from eSSENTIAL Accessibility™.
By clicking on the icon above, the user is redirected to www.essentialaccessibility.com where the application is available free of charge.
This application features an array of keyboard and mouse replacement solutions (alternative input methods including a webcam-based hands-free movement tracking system) that allow users to overcome any physical limitation to access our website. It also includes a web page reader.
The application can be rapidly downloaded and installed on a standard PC for the use of anyone who has difficulty typing, moving a mouse or reading a web page.
The Canadian Mental Health Association is proud to feature eSSENTIAL Accessibility™ as a Founding member of an Online Social ResponsAbility Initiative sponsored by March of Dimes Canada.