Faces of CMHA WW: Tania Resendes, Manager of Intensive Services
Oct 5, 2021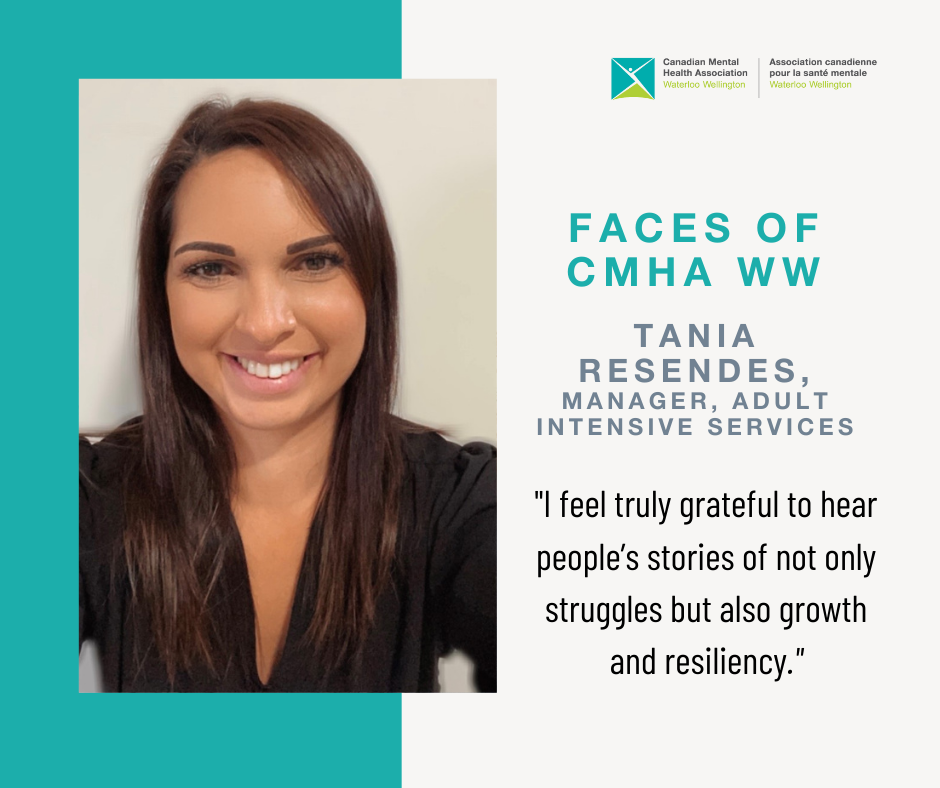 What is involved in your role?
As the Manager in Adult Intensive Services, I oversee the Cambridge Flexible Assertive Community Treatment Team (FACTT) and Cambridge Specialized Outreach Service team. I mainly provide support and consult to the amazing and skillful staff that are on these teams and collaborate with community partners.
Why did you become involved in the mental health field?
I knew I wanted a career in which I was helping people. More specifically, to walk alongside people on their journey of reaching their full and true potential. While studying and during student placements I was fortunate to be exposed to the mental health field. Needless to say, I found my passion. I feel truly grateful to hear people's stories of not only struggles but also growth and resiliency. When entering the field, I would think that If I am able to support someone to reach their goals and feel worthy, then I would feel accomplished. That goal has evolved to support as many as I can and to advocate for change in the system.
Have you always worked in mental health?
Prior to my social work studies, I worked in retail, and even did visual merchandising and considered doing that as a career for a short period of time.  I worked within a bereavement organization and then adults with developmental needs before entering the mental health field.
How do you support people in your role?
I primarily support people by consulting with my teams as they support our community and individuals during their mental health journey. I collaborate with community partners to create bridges of care that we now know is crucial to supporting individuals. Prior to my current role I was a Mental Health Clinician with one of the FACT teams and was meeting and supporting individuals primarily by providing counselling and case management.
What are you proud of during your time in your role?
Hearing the stories of individuals that are doing well and living a meaningful life after really struggling and seeing the support that the teams provided to assist the individual is truly the best part of my job. As well, supporting my staff as they provide amazing service especially during the ongoing challenging times.
If you are in crisis or wish to discuss whether CMHA has the right service for you, call Here 24/7: 1-844-437-3247 (HERE 247).
Follow the 'Faces of CMHA' series for a glimpse into the lives of the people who spend each day at the Canadian Mental Health Association Waterloo Wellington working to inspire and support people to achieve the quality of life they desire. Join our team, click here to view current employment opportunities at CMHA WW.