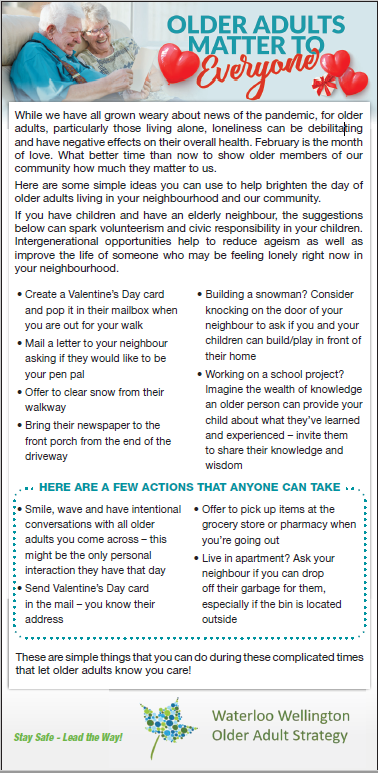 Waterloo-Wellington Older Adult Strategy
The Waterloo-Wellington Older Adult Strategy (WWOAS) proposes next steps in a journey toward a transformed health system that supports healthy aging and ensures a better quality of life for all people in our community.
It was developed through collaborative leadership and is guided by an advisory committee and the experiences, perspectives and voices of citizens residing in this region – especially that of older adults, their families and caregivers.
Resting upon a series of priority pillars, the WWOAS articulates six overarching and interrelated goals as foundational to a transformed system that best supports older adults. These important goals are offered to better support the health of an aging population, improve care experiences and increase value for the health system, those who function within it and those who rely upon it.
Goal 1: Age-Friendly Society and Communities. Waterloo-Wellington citizens age well within communities that celebrate their life in society and contributions to their communities, thriving through dignity, purpose, belonging and inclusion.
Goal 2: Healthy Aging. All people living in Waterloo-Wellington are exposed to the conditions and experiences that support optimal health throughout life.
Goal 3: Health System Capacity. The Waterloo-Wellington health system is designed and coordinated in a way that realizes functional integration and the appropriate use of health resources to achieve optimal system capacity in support of an aging population.
Goal 4: Collaboration and Coordination. The Waterloo-Wellington health system fully leverages and capitalizes on intra and intersectoral collaboration, offering a whole-of-community orientation to health, well-being and quality of life.
Goal 5: Quality. Older adults living in Waterloo-Wellington have universal access to the highest quality of care, services and supports — those that emphasize excellence in safety, effectiveness, person-centredness, timeliness, efficiency and equity.
Goal 6: Empowerment. The Waterloo-Wellington health system plays a pivotal and functional role in enabling the empowerment of people as they age, their caregivers and the health and social service providers they rely upon.
Are you an older adult with lived experience of the healthcare system? Join us in the Older Adult Strategy Community Members Network! We welcome a diversity of older adults who together advise and effect positive change throughout our regional health system. This group gives constructive advice as well as undertakes projects as catalysts for transformation, including the Self-Advocacy for Healthcare Conversations Workshop (free, and full of useful tools for helping older adults and caregivers on their healthcare journeys).
Contact Christine Platt Geriatric Systems Implementation Facilitator for more information: cplatt@cmhaww.ca
Useful Links:
Making the Most of Your Medical Appointment Notecard
Research Institute on Aging: Waterloo-Wellington Older Adult Strategy | Research Institute for Aging (the-ria.ca)