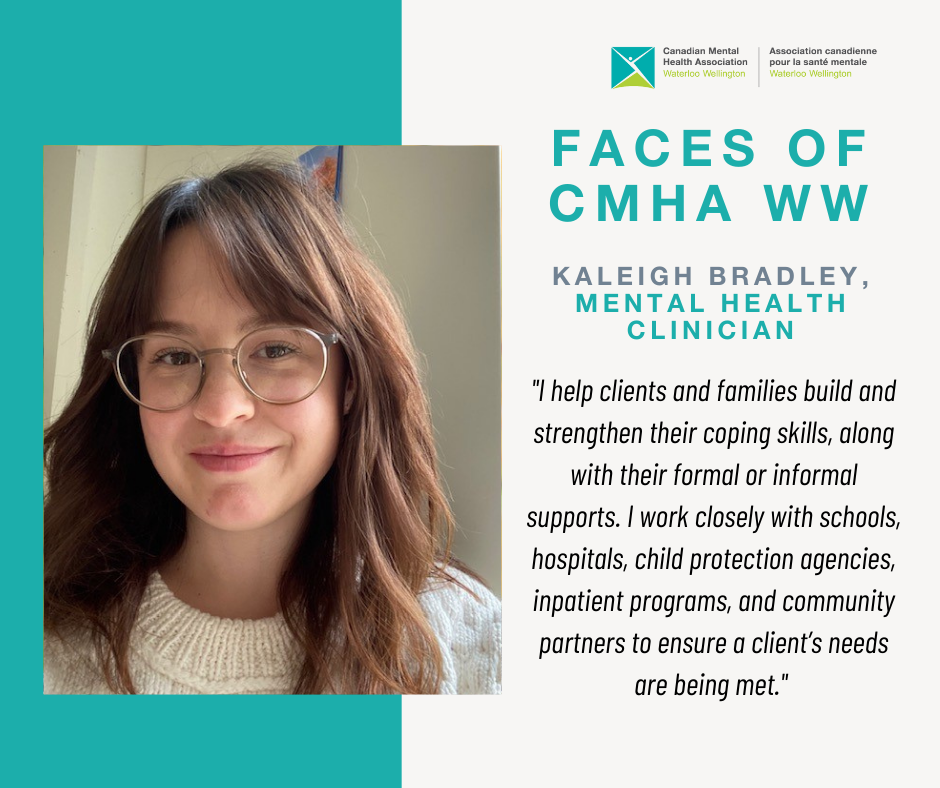 What is involved in your role?
I am a mental health clinician with Children's Services. I provide counselling and treatment to youth living with moderate to severe mental health concerns. I work in our new brief intensive counselling program. I am a registered social worker and work on an interdisciplinary team of psychiatrists, nurses, clinicians, family consultants, outreach workers, and support coordinators.
I also spend one day every week providing walk-in counselling to youth at The Grove Youth Wellness Hubs.
Have you always worked in mental health?
No. I used to be a research consultant and was working towards a Ph.D. in history. My background and training was in the history of settler colonialism across Turtle Island (North America). I realized that academia was not for me, and I wanted to help others in a more direct way. Leaving the Ph.D. program was the hardest (but best) decision I ever made. Sometimes we end up on one path in life only to realize that it was a detour in the end. As a clinician, I still draw from my training and knowledge as a historian. For example, when doing assessments, I need to gather, synthesise, and interpret a lot of information from different sources to come up with a possible explanation for a client's concerns. There are other similarities. Both history and psychotherapy are about questioning and re-writing the stories we come to believe about ourselves and the world around us. "We are our stories" as Thomas King says.
Why did you become involved in the mental health field?
I wanted to study health policy and planning and social work seemed like a natural fit. My plan was to specialize in macro social work (social work at the community or systemic levels). My first placement was not what I initially had in mind. It was at a probation and parole office where I supervised clients on probation. I realized the criminal justice system was often the first point of contact for clients struggling with untreated mental health and substance use concerns. I had the opportunity to train in motivational interviewing and I enjoyed talking to clients about their mental health and recovery. I was limited in my ability to support them without any formal training in mental health. I became interested in how psychotherapy can be used to treat mental health concerns and ended up specializing in mental health.
How do you support people in your role?
I complete assessments and see clients regularly for counselling appointments. I spend time working with clients and their caregiver(s) providing psychoeducation. I help clients and families build and strengthen their coping skills, along with their formal or informal supports. I work closely with schools, hospitals, child protection agencies, inpatient programs, and community partners to ensure a client's needs are being met. Sometimes this involves advocacy on behalf of clients. I also co-facilitate a multi-family DBT (dialectical behaviour therapy) group with other clinicians, which is an evidence-based therapy for individuals experiencing self-harm, suicidal thoughts, and/or difficulties regulating their emotions.
What are you proud of during your time in your role?
Since Children's Services launched our brief counselling program, the Children's team was able to significantly cut down our waitlist. This combined with the opening of The Grove Youth Wellness Hubs across our community has addressed a large gap in our mental health system. Being part of these big changes in our services has been rewarding. Children and families are no longer waiting months for service. Youth can walk right into The Grove and get a variety of services, including counselling. This is important especially today, as the pandemic has unfortunately caused an increase in crisis and pressure on our healthcare system. We are seeing the benefits when youth can access the help they need, when they need it.
If you are in crisis or wish to discuss whether CMHA has the right service for you, call Here 24/7: 1-844-437-3247 (HERE 247).
Follow the 'Faces of CMHA' series for a glimpse into the lives of the people who spend each day at the Canadian Mental Health Association Waterloo Wellington working to inspire and support people to achieve the quality of life they desire. Join our team, click here to view current employment opportunities at CMHA WW.