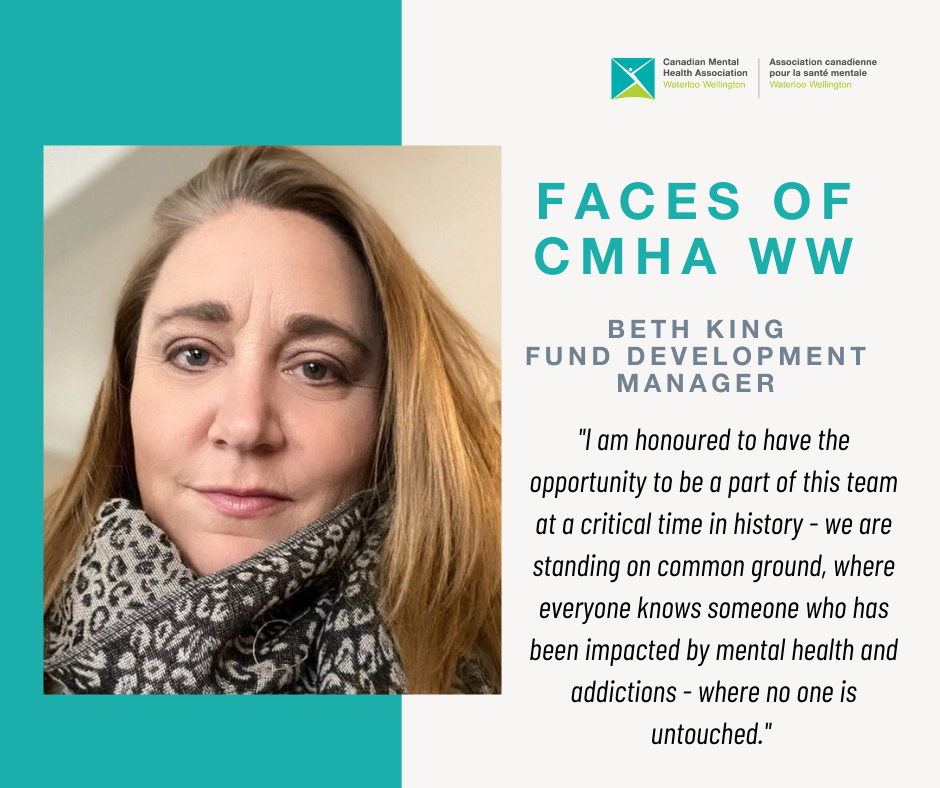 What is involved in your role?
I am responsible for the planning and implementation of all of our fund development activities including our annual fundraising campaign, donor relations and stewardship, funding applications, and annual events like Shoppers Run For Women.
What brought you to CMHA?
I am a mom of two teenagers who early in life experienced traumatic events that impacted their mental health. When I saw that CMHA WW was looking for a Fund Development Manager it was an opportunity I couldn't let pass me by.  I am honoured to have the opportunity to be a part of this team at a critical time in history – we are standing on common ground, where everyone knows someone who has been impacted by mental health and addictions – where no one is untouched.
How do you support people at CMHA in your role?
Since arriving at CMHA WW I have heard Helen say many times that "Mental Health, is Health".  I believe CMHA WW is the bridge to the resources and supports needed by so many in our community right now and I am excited to be helping share this story and building funding partnerships to ensure those who need our help most have access to what they need when they need it.
What are you proud of during your time at CMHA?
I believe that stories are a powerful way to help people understand the importance of and the impact of our work.  I am proud to be able to share our stories in a way that honours the work our staff does every day to support our family, friends, co-workers, and neighbours as they work toward recovery and resilience and helps to build awareness in our community that CMHA WW is a charity that is need of, and worthy of, our communities support.
If you are in crisis or wish to discuss whether CMHA has the right service for you, call Here 24/7: 1-844-437-3247 (HERE 247).
Follow the 'Faces of CMHA' series for a glimpse into the lives of the people who spend each day at the Canadian Mental Health Association Waterloo Wellington working to inspire and support people to achieve the quality of life they desire. Join our team, click here to view current employment opportunities at CMHA WW.