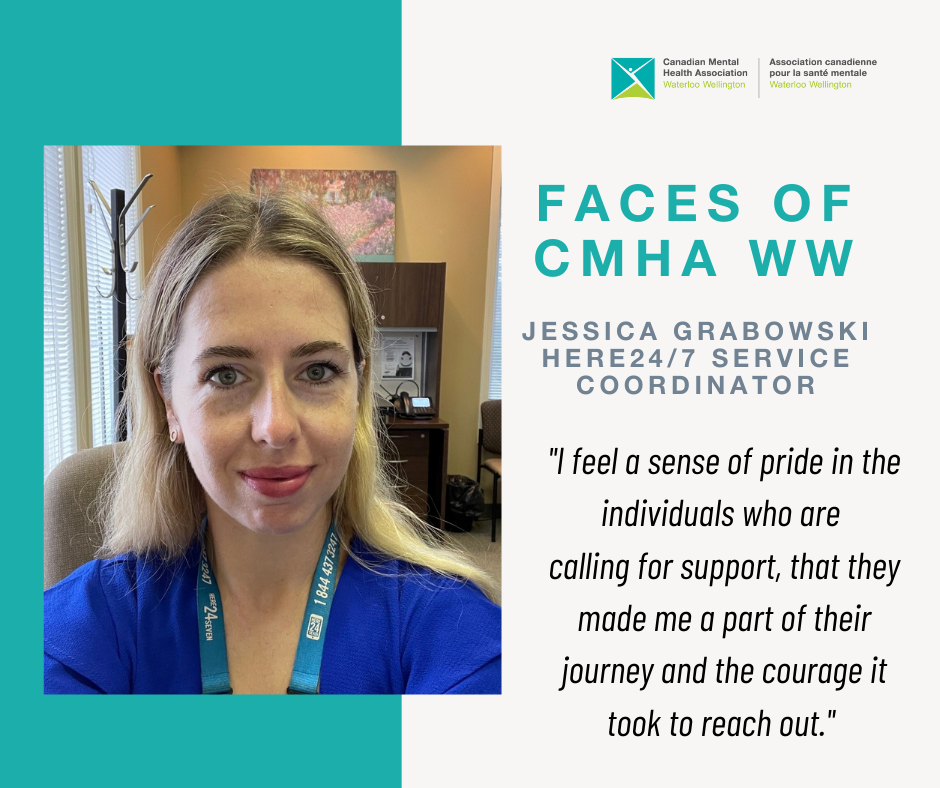 What is involved in your role?
I work for the Here 24/7 program. There are a lot of aspects of our role which is connecting individuals to mental health and substance use supports in the community. We support individuals and their family members in navigating the mental health and addictions system. The Here 24/7 team completes crisis assessments with individuals and we really try to meet people where they are at in terms of support. I always ask what their goals are, and inquire what services they feel will be helpful to best fit their recovery goals.
Why did you become involved in the mental health field?
I would say from a young age I've always wanted to help people. The first course I took in University was sociology I was instantly drawn to it and the social services field.
Have you always worked in mental health?
I've been working in the mental health field for about 10 years now. Previously I worked for CMHA Toronto as the Vocational Specialist on the Assertive Community Treatment Team and for an Employment Service drop in for CMHA Haliburton, Kawartha, Pine Ridge. Before that I worked for a number of years at a pool and spa store for a family friend's business.  I also had a job working for Apple computers troubleshooting computer issues!
How do you support people in your role?
Here 24/7 provides support to individuals in a variety of different ways, we offer walk in services at our offices (9-5 Monday to Friday) we meet individuals in the community, at their homes and we support by phone 24 hours a day. When answering the Here 24/7 crisis line I listen to what the individual is telling me, and confirm their need and let them know the service(s) that may be a fit for what they are looking for. I always want individuals to feel that they were well supported when they call and speak to me, and I always want to make sure I did as much as I can to ensure their needs are met. I want individuals to leave our conversation feeling hopeful, like they are not alone and can call Here 24/7 again should they require more support or things change in how they feel.
What are you proud of during your time in your role?
I believe the work that Here 24/7 does makes a positive difference in individual's lives, I am proud of the Here 24/7 team and our ongoing support to the community. I also feel a sense of pride in the individuals who are calling for support, that they made me a part of their journey and the courage it took to reach out.
If you are in crisis or wish to discuss whether CMHA has the right service for you, call Here 24/7: 1-844-437-3247 (HERE 247).
Follow the 'Faces of CMHA' series for a glimpse into the lives of the people who spend each day at the Canadian Mental Health Association Waterloo Wellington working to inspire and support people to achieve the quality of life they desire. Join our team, click here to view current employment opportunities at CMHA WW.