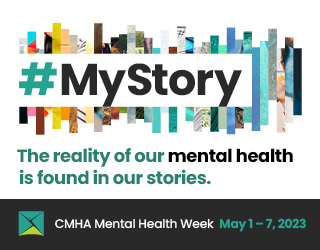 Mental Health Week 2023 – May 1-7th
Apr 25, 2023
Each May, people across Canada rally around CMHA's Mental Health Week. Inaugurated by CMHA in 1951, May 1-7, 2023, marks the 72nd annual Mental Health Week in Canada. Mental Health Week is a social change campaign to educate the public and shift beliefs and perceptions about mental health. It helps promote behaviours and attitudes that foster well-being, support good mental health and create a culture of understanding, and acceptance.
"This year, we're so thankful to our community members for stepping up and sharing their own stories. One of those inspiring stories comes from Noah Irvine, whose unique experience has led him to be an advocate for others. Noah lost his mother, Lesley, at five to suicide, and his father, Kent, died from a prescription drug overdose when Noah was 15. He also has PTSD and a learning disability. When he was in Grade 11, Noah launched a national campaign to encourage all levels of government to work together to help support peoples' mental health. Stories like Noah's are so important as we continue the important work of breaking down stigmas surrounding mental illness. By learning from others, we can be inspired to look after ourselves and seek help if we need it." says CEO CMHA WW, Helen Fishburn.
The 2023 Mental Health Week campaign – My Story – encourages us to speak about our lived experiences and share our own mental health journeys. As individuals and communities, we have layered stories that make us who we are. One in five Canadians experience a mental illness or mental health issue, but all of us have mental health and need to take care of it. Stories connect us and remind us we're not alone. Our brains are wired for story, and sharing stories allows us to learn more about ourselves and others. Through sharing our stories, we can come together to share one key message: universal mental health care is a vital part of our health care system, and we need it now.
Over 3,151 people are waiting for ongoing mental health support in Waterloo Wellington. We all need care to thrive but as things are, only some of us will get it. Mounting mental health needs are straining our systems and for two out of three of us, care isn't available due to cost, wait times, location, or lack of equitable access.
You can support CMHA WW by participating or donating to the Shoppers Drug Mart® Run for Women on Saturday May 13th at Conestoga College, Doon campus. Learn more here.
We are also hosting a Mental Health Week 2023: Caregiver Well-being Event via Zoom on May 3rd 6:30-8pm. Join the Family Council of CMHA Waterloo Wellington and hear from Dr. Serena Jenkins of the Palix Foundation. Learn about the science of resilience and how the Resilience Scale can be used as a tool to improve outcomes for individuals, families, and communities. Click here to register.
The Canadian Mental Health Association Waterloo Wellington (CMHA WW) is a non-profit organization that provides a full care system for those with addictions, mental health, or developmental needs. CMHA WW serves everyone from children to adults to seniors and helps individuals and families to lead lives filled with meaning and promise.
To view the 2023 Mental Health week toolkit, click here.