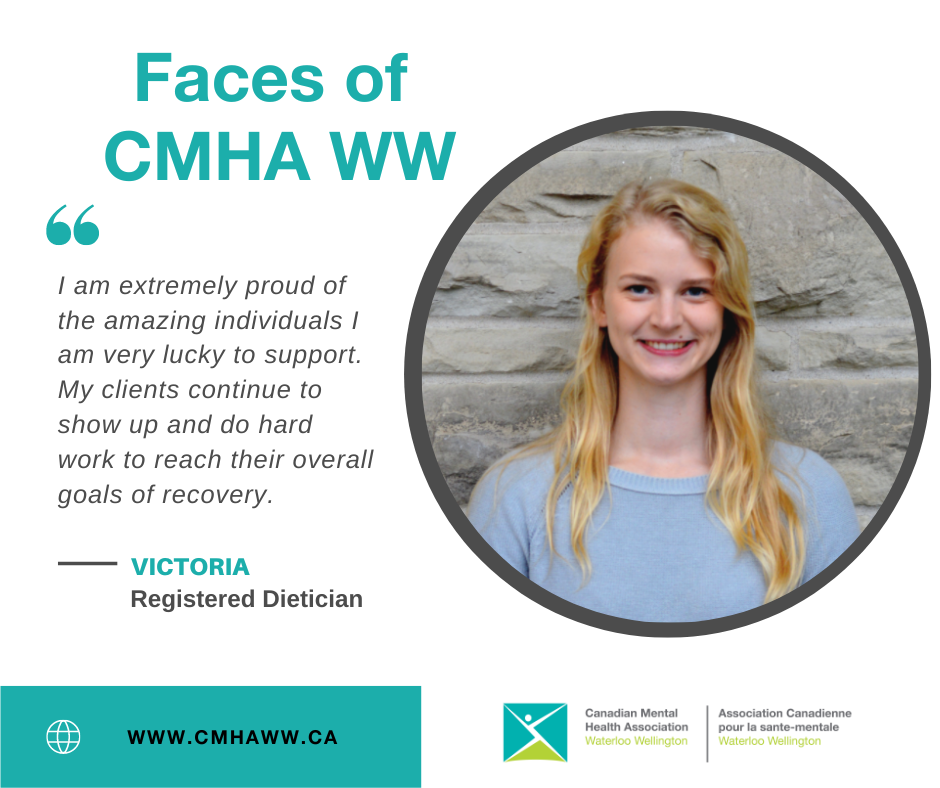 Faces of CMHA WW: Victoria Hanson
Jan 24, 2023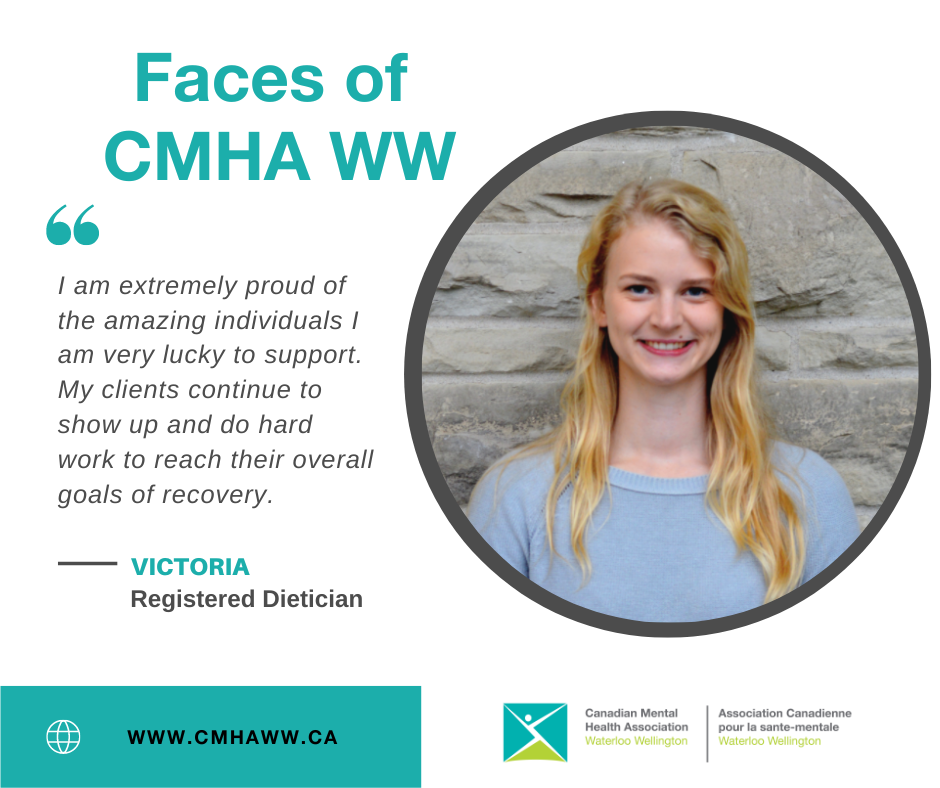 1. What is involved in your role?
I work as a registered dietitian within the child and youth and adult outpatient eating disorder program. My role begins with a nutritional assessment to provide data to other team members to provide a diagnosis as needed. I support clients to normalize nutrition to minimize the incidence and frequently of eating disorder symptoms. I support both clients and families with weight restoration, treating nutrient deficiencies, mechanical eating, symptom interruption, hunger and fullness and the value of all foods in both individual and group formats. In my role, I work with a multi-disciplinary team of mental health clinicians, nurse practitioners, and other dietitians. I coordinate a program (Food for Life) designed to educate students in Guelph and Wellington Country Public Schools.
2. Why did you become involved in the Mental Health Field?
I became interested in working the mental health field during my final year of undergrad when I worked as a facilitator of the Food for Life program. I had the privilege to work and learn from an eating disorder dietitian as my manager. Her passion and enthusiasm for her job sparked my interest in working in eating disorders.
3. Have you always worked in Mental Health?
I feel privileged to have always worked in the mental health field in a few settings in my young career.
4. How do you Support People in your Role?
This is a tricky question to answer in a few short lines! Generally, I aim to increase clients' motivation and confidence to recover from their eating disorder from a food and nutrition lens. I aim to provide accurate evidenced-based information and psychoeducation to clients. I am here to assist with nutrition objectives to reach clients' overall nutrition and recovery goals.
5. What are you Proud of During your Time in your Role?
I feel proud of every assessment, group, appointment, and situation I get to work with my team on. I am extremely proud of the amazing individuals I am very lucky to support. My clients continue to show up and do hard work to reach their overall goals of recovery.
If you are in crisis or wish to discuss whether CMHA has the right service for you, call Here 24/7: 1-844-437-3247 (HERE 247).
Follow the 'Faces of CMHA' series for a glimpse into the lives of the people who spend each day at the Canadian Mental Health Association Waterloo Wellington working to inspire and support people to achieve the quality of life they desire. Join our team, click here to view current employment opportunities at CMHA WW.