You are currently on the:
CMHA National
Visit our provincial websites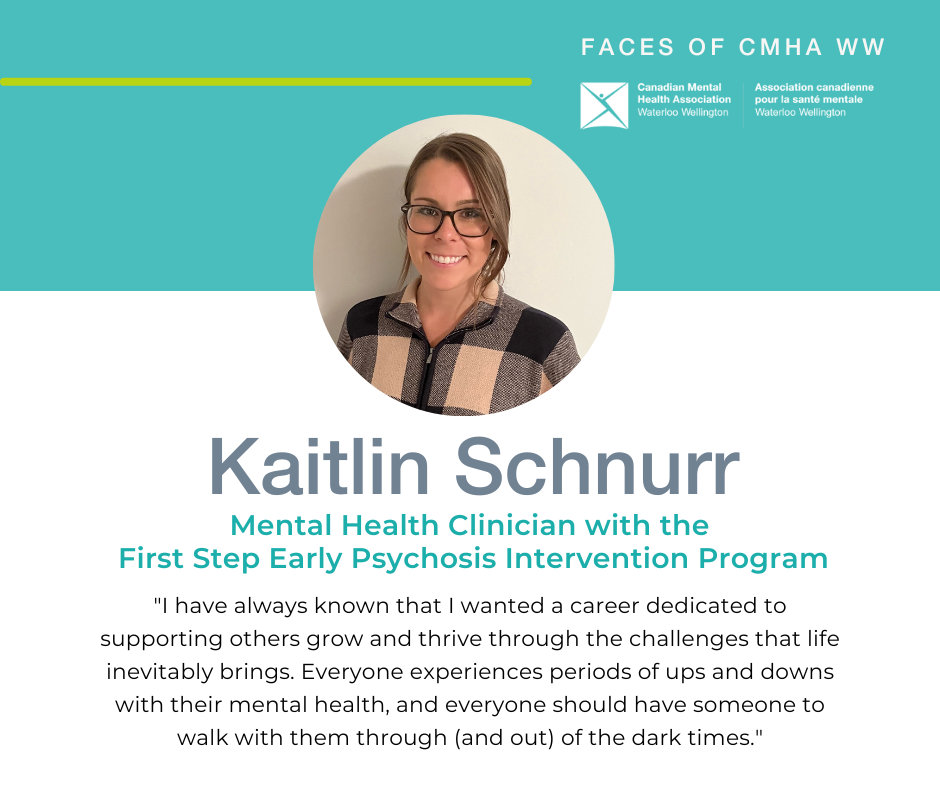 Faces of CMHA WW: Kaitlin Schnurr Mental Health Clinician
Nov 8, 2022
1. What is involved in your role?
I am an Occupational Therapist working in the role of a Mental Health Clinician with the First Step Early Psychosis Intervention Program. My role is to support individuals who are experiencing a first episode of psychosis, beginning with the completion of a comprehensive assessment, and getting to know the individuals that are referred to our program.
I have the pleasure of working with an incredible interdisciplinary team and I support the coordination of care within this team, including access to psychiatry, nursing, education/employment supports, family education & support, and peer supports. As an Occupational Therapist, I support individuals in setting goals and engaging in activities that are meaningful to them. My role also involves the provision of case management/service coordination, services, crisis support, and psychoeducation to support individuals in preventing symptom relapse, self-managing their mental health, and continuing forward in their recovery journey.
2. Why did you become involved in the mental health field?
I have always known that I wanted a career dedicated to supporting others grow and thrive through the challenges that life inevitably brings. Everyone experiences periods of ups and downs with their mental health, and everyone should have someone to walk with them through (and out) of the dark times. Although I have always been passionate about mental health as a core pillar or wellness, I wasn't always sure if I wanted a career in this field, because many think that the work can be heavy… and it can be. But it is also a field that is filled with hope and my job continues to show me this hope every day. My hope is to be available to walk with individuals through the hard times when they need it, so that nobody feels like they need to walk through it alone.
3. Have you always worked in mental health?
The short answer to this question would be no. I studied gerontology in school and subsequently completed my master's degree in Occupational Therapy, with the goal of supporting older adults in the community. I have worked in various roles geared towards supporting the autonomy and independence of older adults, as well as within the developmental services sector. With that said, mental health has come up in all the roles that I have worked in, despite these roles not technically classified as being within a 'mental health field'. Again, mental health affects everyone, and to ignore this fact would be a disservice in any role.
4. How do you support people in your role?
The First Step Program serves individuals between 14-35 years of age, which is already a time of life filled with many changes and transitions. It is a time of life filled with developing one's sense of identity. When I meet with the individuals that I support, I try to bring compassion to each interaction, and normalize that mental health can affect anyone and anyone can recover from mental health challenges. I don't want an episode of psychosis to become someone's entire identity. I take a strength-based approach with the individuals that I support, to help them navigate life's transitions and fulfill their goals, while recovering from mental health challenges. My goal is to support the individuals I serve in building the skills and tools that they need to self-manage their mental health recovery while participating in life to its fullest.
5. What are you proud of during your time in your role?
There are so many things that I am proud of during my time in this role, and I have been provided with many opportunities to grow, as a clinician and a person, during my time with CMHA WW. Being able to present to early psychosis intervention teams throughout the province at an event held by CAMH in Toronto was definitely a proud moment. I also continue to be involved with the Occupational Therapy Program at McMaster University, and take great pride in teaching and precepting student occupational therapists, many of whom are being exposed to the role of OT in mental health for the first time. Most of all, I am proud of the individuals that I support, who continue to show up and take charge of their mental health and put in the deep work that is needed to reach their recovery goals.
If you are in crisis or wish to discuss whether CMHA has the right service for you, call Here 24/7: 1-844-437-3247 (HERE 247).
Follow the 'Faces of CMHA' series for a glimpse into the lives of the people who spend each day at the Canadian Mental Health Association Waterloo Wellington working to inspire and support people to achieve the quality of life they desire. Join our team, click here to view current employment opportunities at CMHA WW.