You are currently on the:
CMHA National
Visit our provincial websites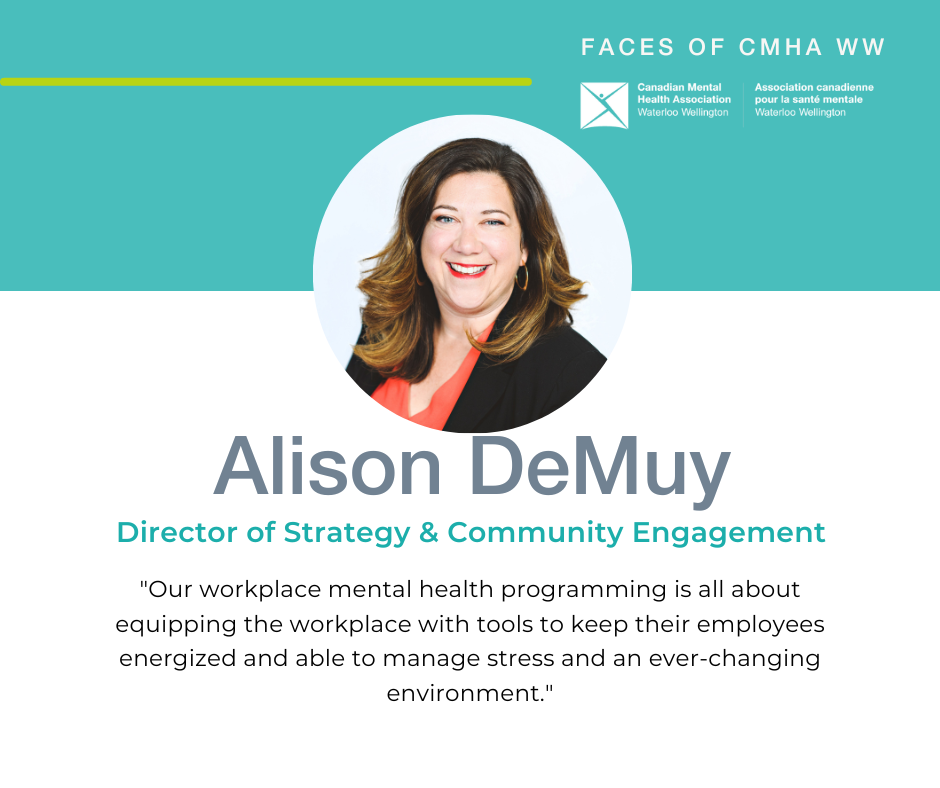 Faces of CMHA WW: Alison DeMuy, Director of Strategy & Community Engagement
Oct 13, 2022
What is involved in your role?
My role is one that tends to represent all the part of the organization that tell the story of the impact of CMHA to stakeholders, including donors and government; how we communicate effectively among our own staff; and how to promote mental health and provide education to the community. I am currently working on a new partnership called "Shift Your Mind" – a physical and mental health program designed to improve workplace mental health.
What brought you to CMHA?
I was so lucky to work alongside Helen Fishburn and other leaders at CMHA when I worked at the WWLHIN as the Senior Manager for Health System Transformation in the area of mental health. CMHA represented a partner who was always interested in improving the health care system and providing quality care by putting the client first.
Mental health is health. I was always so perplexed that mental health was an area of the health care system that had such high needs and yet such little attention from government in terms of funding and improvement. I was passionate that this story needed to be told and that CMHA was positioned to take a leadership role in improving the system for our community. I love the people who work at CMHA who also have this passion for improvement.
How do you support people at CMHA in your role?
It is an honour to tell the stories of those who work so hard every day to provide care for our community. I am very happy to see that we are further emphasizing the role that promotion and education can play in keeping people mentally healthy and reducing the need for our most intensive services. Our workplace mental health programming is all about equipping the workplace with tools to keep their employees energized and able to manage stress and an ever-changing environment. Learn more about our workplace and corporate wellness programs here.
What are you proud of during your time at CMHA?
CMHA is a well-known, and well-respected agency that people locally, and across Canada recognize as a leader is community-based mental health service. I am proud that we have told the stories of the impact that our staff make every day and that we have built on that reputation to bring awareness of maintaining positive mental health to more and more people in our community. When I started in mental health care, the topic was still so stigmatized and full of shame. Although we have lots of work to do, it is far less of a shameful topic – instead I think more people are open to talking about mental health and normalizing it as a human experience we all understand.
If you are in crisis or wish to discuss whether CMHA has the right service for you, call Here 24/7: 1-844-437-3247 (HERE 247).
Follow the 'Faces of CMHA' series for a glimpse into the lives of the people who spend each day at the Canadian Mental Health Association Waterloo Wellington working to inspire and support people to achieve the quality of life they desire. Join our team, click here to view current employment opportunities at CMHA WW.