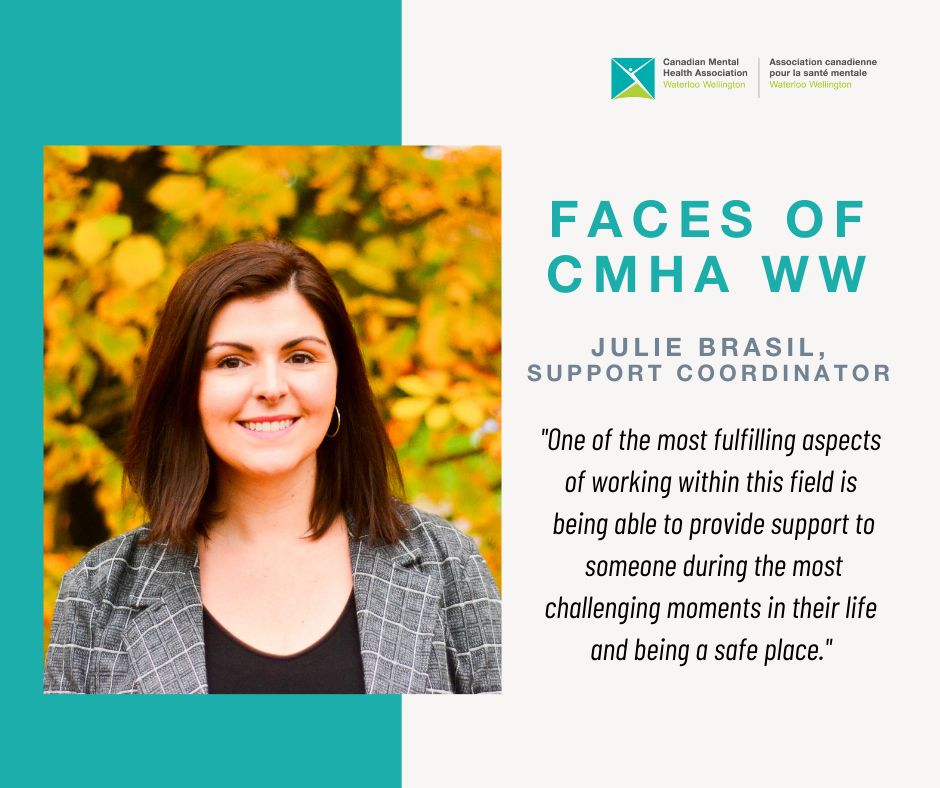 1. What is involved in your role?
As an Intake/Referral Support Coordinator with the Flexible Assertive Community Treatment Team (FACTT), we support individuals, who live with significant mental health issues, and assist in identifying the best fit of service to meet their unique needs and help to make connections with these supports. The FACT team is a recovery oriented, treatment and team based care model, which has the ability to adapt to an individual's changing needs.
The Triage team meets with individuals to complete an assessment of support needs to best understand someone's past experiences and current challenges.  We collaborate with an individual and their support system, which may include family, friends, hospital, physicians and various community partners.
2. Why did you become involved in the mental health field?
I have always had a passion for supporting individuals in their recovery journey.   One of the most fulfilling aspects of working within this field is being able to provide support to someone during the most challenging moments in their life and being a safe place.   I am privileged to be able to offer compassion and inspire hope.
3. Have you always worked in mental health?
The majority of my career has been within mental health, with experience in retail and manufacturing.  I was very fortunate to have found my passion for helping others early in my career path.  I volunteered with Homewood Health Centre and St. Joseph Health Centre, which impacted my decision to pursue the field of Social Work. Prior to beginning my journey with CMHA in 2006, I worked within elementary schools, youth group home and an employment resource centre.
4. How do you support people in your role?
Within this role, we support individuals from the time of the referral to connecting with resources.  We connect individuals to the best fit of services, at the right time.  For example, we may support someone in connecting to food resources, detox/addictions supports, peer supports and employment resources.
5. What are you proud of during your time in your role?
I am truly proud to work with and collaborate with the most caring teams at CMHA and within the community.  It is an honour to walk alongside someone in their journey, listening to their personal experience and reach mental health stability.
The commitment and passion of the FACT Team, is truly amazing.  As a team, we celebrate the moments where there is hope in the eyes of an individual in service and a recognition of their own strength. As a team, we see greatness come alive in clients each day.
If you are in crisis or wish to discuss whether CMHA has the right service for you, call Here 24/7: 1-844-437-3247 (HERE 247).
Follow the 'Faces of CMHA' series for a glimpse into the lives of the people who spend each day at the Canadian Mental Health Association Waterloo Wellington working to inspire and support people to achieve the quality of life they desire. Join our team, click here to view current employment opportunities at CMHA WW.