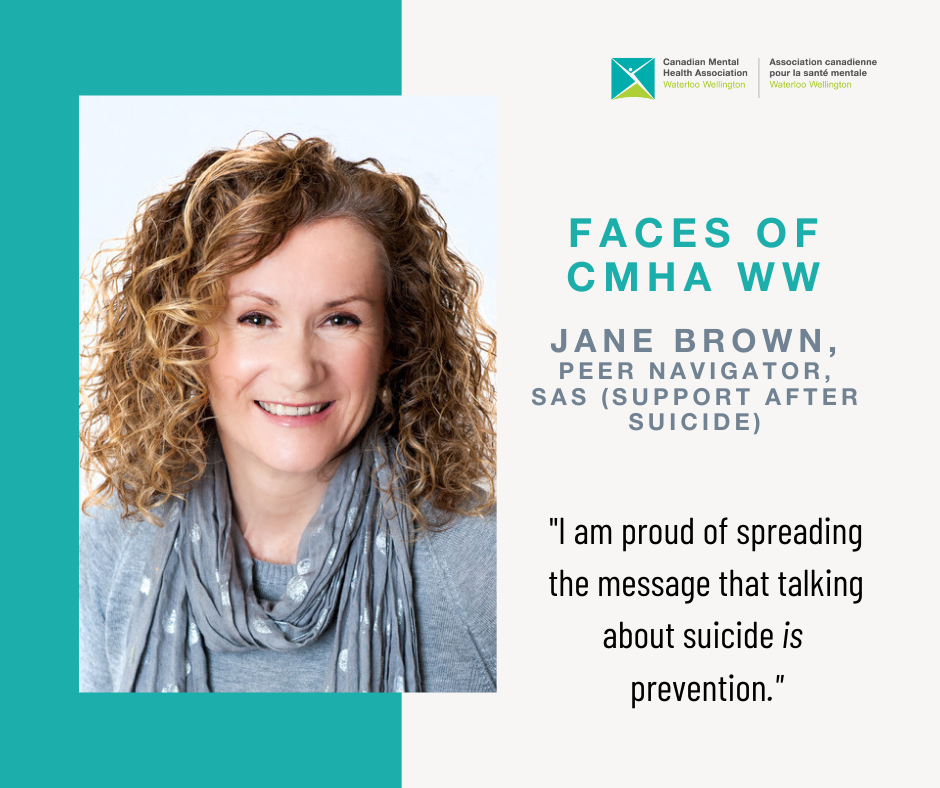 What is involved in your role?
I am the Peer Navigator with the Support After Suicide team along with a Mental Health Clinician and an OPP officer.  We serve the rural population of Wellington County.  Together we reach out to those impacted by a suicide and provide support and guidance as they cope with their loss.  I bring lived experience of loss by suicide of three members of my immediate family.
Why did you become involved in the mental health field?
I was drawn to work in the mental health field because of my own struggles with mental health as well as those of family and friends.  I and my loved ones have benefited from the support we received from both peers and mental health professionals.  It is a way for me to give back and a way for me to honour my loved ones.
Have you always worked in mental health?
I think these days no matter where you work or live you are touched by either your own mental health challenges or those of family, friends, or co-workers.  There has been a component of supporting individuals with mental health issues throughout my career.  Working with CMHA is my first time working directly in the mental health field.
How do you support people in your role?
I use my lived experience intentionally and try and help the people I support feel validated and less isolated.  Sometimes just knowing that I have also lost loved ones to suicide opens a window of communication with the individuals I support; it creates an immediate bond of trust and safety.  I walk alongside them in their journey of grief and assure them that there is no set path and no set schedule.  I help them to feel less alone.  I try to give them hope.
What are you proud of during your time in your role?
I am saddened by the number of people I meet who say that they are limited in who they can talk to about their loved ones dying by suicide.  The stigma surrounding suicide silences so many.  I am honoured to hear their stories and what is rewarding for me is helping them understand that to let go of any shame or guilt they may have; they need to be vulnerable in their conversations and be heard.  I reassure them that they will find people who want to give unconditional love and support.  And as they continue to talk about suicide, they will meet new people who have endured similar losses who will feel so lucky to meet them and they will both feel acknowledged.  I am proud of spreading the message that talking about suicide is prevention.
If you are in crisis or wish to discuss whether CMHA has the right service for you, call Here 24/7: 1-844-437-3247 (HERE 247).
Follow the 'Faces of CMHA' series for a glimpse into the lives of the people who spend each day at the Canadian Mental Health Association Waterloo Wellington working to inspire and support people to achieve the quality of life they desire. Join our team, click here to view current employment opportunities at CMHA WW.