Faces of CMHA WW: Kim Campbell, Mental Health Clinician
Sep 14, 2021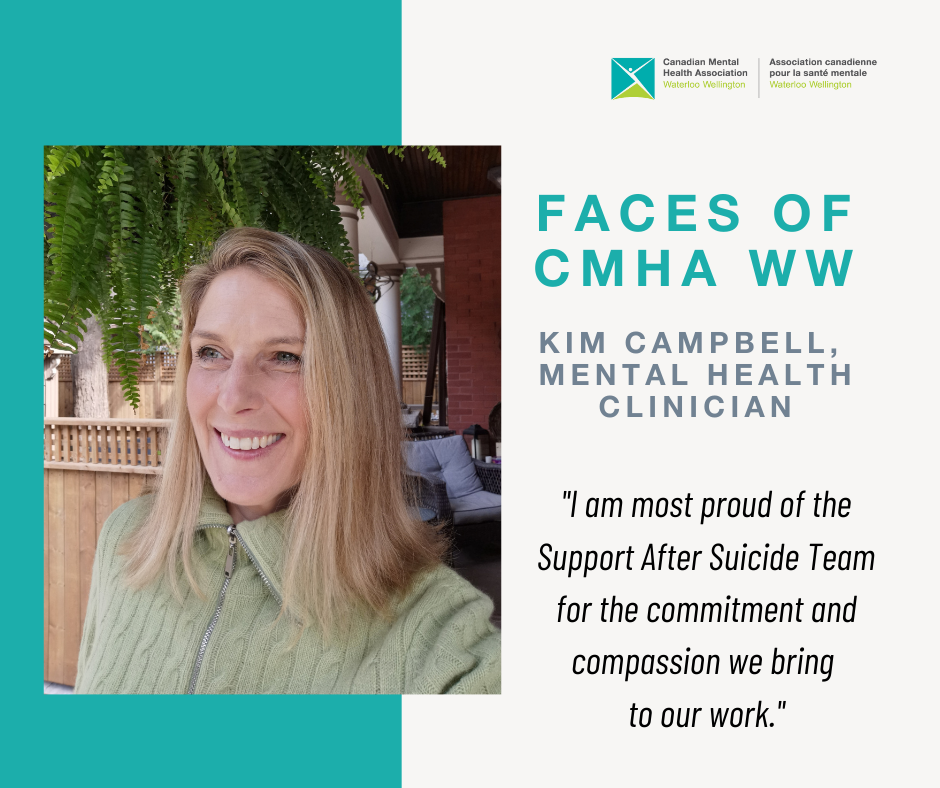 What is involved in your role?
As part of the Support After Suicide Team in Wellington County, I provide support to family, friends or members of the community impacted by a suicide loss working closely with the Peer Navigator, OPP Officer and our Project Team Lead. A loss to suicide is unique in many ways and the bereaved often feel silenced and isolated. We provide immediate outreach and support to family and community impacted, starting with the simple act of holding space for grief. We also provide information, resources and referrals and offer bereavement groups to foster communities of support. As the Mental Health Clinician for the program, I provide grief therapy and trauma therapy where needed.
Why did you become involved in the mental health field?
Two key influences bro0ught me to the field of mental health. The first being the inspiration of my Mother, who was a dedicated mental health professional and the second being our shared family experience of mental health stigma. Understanding Adverse Childhood Experiences (ACEs) as well as Suicide Postvention, are both near and dear to my heart. I have had many intersections in my learning pathway from biopsychology, to adult learning and organizational development and then to systems thinking when I became a Registered Marriage and Family Therapist (a title that is outdated but change is coming!) and Registered Psychotherapist.
Have you always worked in mental health?
No, I worked for a large financial firm for twelve years, mostly in adult learning and organizational development. There, I had the pleasure of helping to develop programs for people managers, provide mentoring and advanced facilitation to support leaders and teams in working more effectively together.
How do you support people in your role?
One person at a time, meeting them where they are at. I focus on connecting with clients to find out what is meaningful and helpful to them in their loss and grief journey. I provide grief and trauma therapy using a number of approaches, including Narrative, Focused Mindfulness, Cognitive Behavioural, attachment-based and creative play therapies. Narratives and writing are a great love for me and I am always exploring ways of expanding stories of grief, healing and resilience when people are interested in writing.
What are you proud of during your time in your role?
I am most proud of the Support After Suicide Team for the commitment and compassion we bring to this work. I am proud of the places where we have reached in to provide mental health support and suicide prevention where there has not been support before. We have learned a lot on our journey, mostly from our clients, and their incredible stories that they are kind and brave to share with us.
If you are in crisis or wish to discuss whether CMHA has the right service for you, call Here 24/7: 1-844-437-3247 (HERE 247).
Follow the 'Faces of CMHA' series for a glimpse into the lives of the people who spend each day at the Canadian Mental Health Association Waterloo Wellington working to inspire and support people to achieve the quality of life they desire. Join our team, click here to view current employment opportunities at CMHA WW.