November 3, 2020
4:00 pm to 5:00 pm
Add to Calendar (iCal)
Add to Google Calendar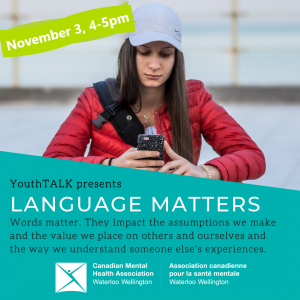 Calling all youth!  Join us to learn about how our words matter!
Words matter. "They are so OCD!", "my life sucks!", "what a schizo!", "I'm not good enough". Have you or anyone you know said these types of phrases before? They impact the assumptions we make about others and ourselves, the way we understand someone else's experiences, and the value we place on others and ourselves. Helpful language makes people feel heard, included, and supported. This presentation/webinar/workshop will help you be more conscious of how you talk about mental health, illness, and just about negativity in general towards others and yourselves. The right words and positivity can help increase your mental health and others in a healthy way!
For those who can't attend our live session, we'll provide a recording.
For more information, contact youthtalk@cmhaww.ca.