January 28, 2021
3:30 pm to 4:30 pm
Add to Calendar (iCal)
Add to Google Calendar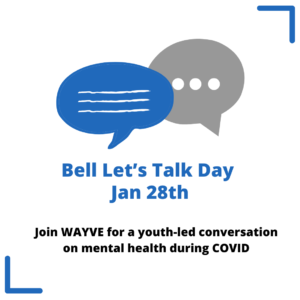 Bell Let's Talk Day is Thursday, January 28th, 2021. So we are going to talk. Join us as youth members of the WAYVE team share their stories of mental health, COVID, and reaching out. We'll also be sharing things that you can do to support your own mental health and how you can be there for others.
Wellness, Acceptance, Youth Voices and Empowerment. WAYVE.
Please visit WAYVE for more information.
Register by clicking HERE
Contact rpister@cmhaww.ca with any questions or concerns.