CMHA WW Announces Groundbreaking Of Centre For Children's Mental Health and Developmental Services Building
Oct 14, 2021
The largest single donation to community mental health in Canada's history, the building is making support more accessible to children across the county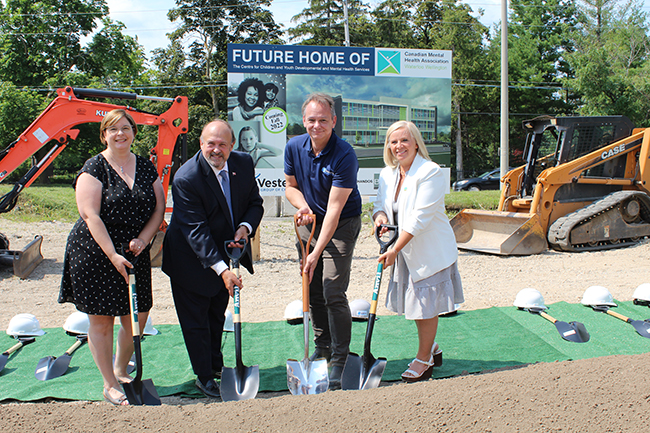 GUELPH, ON | July 22, 2021 — The Canadian Mental Health Association Waterloo Wellington (CMHA WW) is excited to announce the groundbreaking of the Centre for Children's Mental Health and Developmental Services Building. To be complete by early 2023, the three floor building will be a hub for over 30 service providers focused on youth wellness and resilience and will welcome 9,000 local children, youth and their families needing mental health and developmental services, support and treatment each year.
"What a fantastic day for children and youth mental health," says Helen Fishburn, Chief Executive Officer of CMHA WW. "Considering the impact of the pandemic on the wellness of our children and youth, there is an urgent need for increased access to mental health care and treatment. This new building will have a substantial impact on children and their families in Guelph and Wellington County."
Prior to COVID-19, it was estimated that one out of five youth suffered from mental health or substance use issues. Today, the isolation and uncertainty due to the pandemic have increased that number to four out of five youth struggling.
"Now, more than ever, it is absolutely critical that we make the necessary investments to support the mental health of Ontario's children and youth," said Michael Tibollo, Associate Minister of Mental Health and Addictions. "Through our Roadmap to Wellness, we are focused on filling urgent gaps in mental health and addictions care and addressing extensive wait times for services. I extend a heartfelt congratulations to CMHA Waterloo Wellington and all those involved in turning this project into a reality."
The developer and owner of the building, the Vesterra Group of Companies, has pledged to donate the building to CMHA WW as the organization is passionate about investing in the community and children's mental health. The pledged donation is valued today at $50M and is the largest single donation to community mental health in Canada to date. Aiming to address waitlist pressures in local communities and allow for the creation of several new clinical roles, the building will bring more jobs to the area all while providing a broad range of children and youth mental health, addictions and developmental services.
"Without the generous donation from Vesterra Property Management, CMHA Waterloo Wellington's new children's mental health and developmental services building simply would not be possible," says Fishburn.
"I am proud to be part of this project, because I was one of those kids that organizations like Canadian Mental Health Association helped when I was a teenager. I wouldn't be here if it wasn't for the dedication and hard work that organizations such as CMHA do day in, day out. So I'm privileged to be able to give back to the heroes that were there for me. And in today's world after this global pandemic, this is needed more than ever," says Robert Eilers, President and Director of Vesterra.
Located at 737 Woolwich Street North, the building features a variety of services for children ranging from 0-26 years of age. Offerings within children's services include: children and youth crisis support, youth outreach support, service coordination, mental health support in child care and early years, child psychiatry, family support options, infant and child development support and a walk-in service for children, youth and families.
Through collaboration with local area youth, CMHA WW is also thrilled to announce the new identity for its Integrated Youth Services Network (IYSN), which will now be referred to as The Grove. The Grove Hubs will be located in sites across Wellington County and Guelph, a grassroots community initiative led by the Rotary Club of Guelph and a project of several community partners.
Operating as safe spaces for youth aged 12 to 26, The Grove Hubs are modeled after The Youth Wellness Hub Ontario's innovative and evidence-based "one-stop shop" service hubs, addressing the needs of youth related to mental health, community and social services. Three sites are open now in Wellington County.
The Centre for Children's Mental Health and Developmental Services Building will be home to The Grove – Guelph, one of the seven dedicated youth wellness hubs set to open and support local youth, made possible by a combined $1M investment from the provincial government and County of Wellington.
"We are thrilled to finally introduce The Grove to our communities and most importantly, our local youth." says Cyndy Moffat Forsyth, Director of The Grove. "During a year that has already taken so much from our youth including social interaction, friendships, extracurriculars and in-class learning, it is our obligation to give back — this starts with addressing the current mental health resource system head-on."
In additional to this support, members of the local community have stepped up to help provide access to the 146,000 youth in the area, such as the involvement of local partners, including The Rotary Club of Guelph, The Guelph Community Foundation, Big Brothers Big Sisters of Centre Wellington, East Wellington Community Services, University of Guelph, The YMCA of Three Rivers (formerly the Guelph Y) and Shelldale Family Gateway.
To learn more, visit www.cmhaww.ca or www.thegrovehubs.ca.
Click here to view photos from the event.
–30–
ABOUT CMHA WW
The Canadian Mental Health Association Waterloo Wellington (CMHA WW) provides a full care system for those with addictions, mental health or developmental needs. We serve everyone from children to adults to seniors, all under one roof. Our programs help individuals and families to lead lives filled with meaning and promise. We have 350 staff at offices in Cambridge, Waterloo, Kitchener, Guelph, Fergus, and Mount Forest. We also provide visiting/satellite services in Arthur, Shelburne, Erin, and Palmerston.
Website: www.cmhaww.ca
Facebook: @cmhaww
Twitter: @cmhaww
LinkedIn: Canadian Mental Health Association, Waterloo Wellington
ABOUT THE GROVE
The Grove (formerly Integrated Youth Services Network (IYSN) is a collaborative project with the aim of providing youth ages 12-26 with the support they need to build positive, bright futures. With 7 sites across Wellington County and Guelph, The Grove's goal is to build a more effective health and social service system, through integration and collaboration, to better meet the needs of youth.
Featuring the benefit of "one door", the sites will be networked together so youth only need to tell their story once to access programs and services that provide guidance and support for the future. From education and career support, to counselling and peer-to-peer programs, our facilities will provide help and encouragement to every youth in the community.
The Grove Hubs locations include:
Open Now:
East Wellington Community Services – Town of Erin
Minto Mental Health – Palmerston
CMHA Waterloo Wellington – Fergus
Future Sites:
University of Guelph
The YMCA of Three Rivers – Guelph Location
CMHA Waterloo Wellington – North Guelph
Shelldale Family Gateway
Website: www.thegrovehubs.ca
Facebook: @thegrovehubs
Twitter: @thegrovehubs
Instagram: @thegrovehubs
ABOUT VESTERRA
The Vesterra Group of Companies is an international conglomerate operating in both Europe and Canada with activities in Canada ranging from farming to development and construction to property management of both commercial and residential building to renewable energy, equipment leasing and a real estate brokerage. As a "values-driven company," the key principles that guide Vesterra are an unwavering commitment to sustainability, maintaining positive relationships and always doing what's right.
For media inquiries, please contact:
Alicia Baertsoen
519-360-8388