Children's Mental Health Ontario has released their 2020 report on waitlists and wait times for child and youth mental health care in Ontario. As a member of CMHO, the Canadian Mental Health Association Waterloo Wellington provides child and youth mental health services in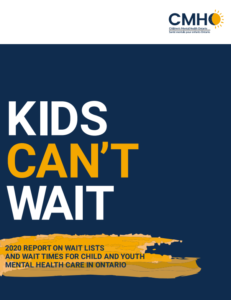 Guelph and Wellington County.
The report reveals that surveying community child and youth mental health centres across Ontario have 28,000 children and youth (under 18) waiting as long as 2.5 years for mental health treatment. Children's Mental Health Ontario's previous survey of wait lists and wait times (2017) estimated there were 12,000 children and youth waiting to access services. Wait lists have more than doubled in two years.
As a provider for Children's Mental Health Services in Guelph and Wellington County, this is a major concern for CMHA WW and the children, youth and families we support. Even though Guelph and Wellington County does not appear in the top five communities for the Longest Wait Times for Child and Youth Mental Health Services in Ontario, we still have too many children and youth waiting for ongoing care locally. Currently, the local wait times for Counselling and Treatment is 226 days, depending on the complexity and priority of the situation.
"We have seen a significant increase in the need for mental health support and treatment for children and youth in Guelph and Wellington County over the past few years. While there is absolutely NO wait for children and youth in crisis, there is a substantial wait for ongoing counselling and treatment. We know that early intervention results in the best outcomes for children and youth struggling with mental health challenges. Despite our best efforts to be responsive, and work collaboratively with our community partners, we simply cannot keep up with the demand that is presenting in our community. No child should wait for more than 30 days for ongoing mental health care. The solutions aren't complicated. CMHA Waterloo Wellington needs to expand front-line care by hiring more clinicians, and we need the Ontario Government to make this funding a priority. Children, youth and their families can't wait for this much needed care and support. They deserve this support," says Helen Fishburn, Executive Director of CMHA WW
"It's disappointing to hear of this many children in need – waiting half a year or more to see a clinician. I hear from parents with children with complex mental health needs that they can't get an appointment with a psychiatrist for almost a year. The stress this puts on the parents and siblings of these suffering children is unbelievable. They just want some peace in their homes and their child to feel "normal" again. CHMA Waterloo Wellington has done much to provide support through walk-in services and partnering with other counselling services in the community to provide alternative places to access counselling. In the end, more funding is needed to help expand front-line care in our community," says Holly Sabara, Parents for Children's Mental Health Guelph Chapter President and CMHA WW Family Council Chair.
The solution is to increase funding to community child and youth mental health services by $150 million per year to ensure that no child or young person waits longer than 30 days for mental health treatment. This crucial investment will facilitate the hiring and training of 1,400 front-line professionals and help 30,000 more Ontario families
If you are a parent with a child in crisis or wish to discuss whether CMHA has the right service for you, call Here 24/7: 1-844-437-3247 (HERE 247). To access services and supports for children from prenatal to age six in Guelph and Wellington County, call Here4Kids: 1-844-454-3711 (4KIDS 11).